Payment Plans
Get the treatments you want by dividing the costs into affordable monthly payments!
Cherry
Cherry is a convenient payment option that provides applicants the ability to get treatments right away while having the flexibility to pay over time (through manageable monthly installments). The application process only takes a few minutes, and approval comes within seconds.
No hard credit check. 0% APR  for up to 6 months (for qualifying applicants). Apply for up to $10,000.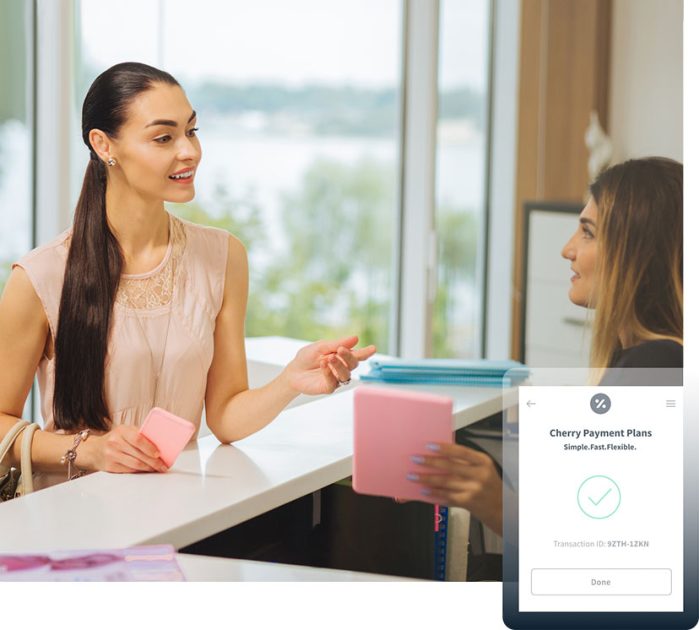 "My treatment was amazing. Had a great experience with them and I've already set up another appointment for more services. The application process with Cherry was very easy and smooth."

-Erika M.
Cherry FAQs
A soft credit check, which does not affect the applicant's credit score, is conducted to determine approval amounts/contract type, as well as to verify identity. Some applicants may need to provide further information for approval.

No! Your account will not be charged any fees or penalties if you pay early.

Also, if you pay off your account before the final payment is due, you won't pay any interest that would accrue over the rest of the loan, saving you money.

Approvals are valid for 30 days. Once that time period expires, applicants can reapply.

Applicants are approved for the maximum amount based on their financial background therefore, the amount cannot be increased.

No, if eligible for 0% APR, it doesn't expire for the current approval. For example: If approved for a six-month term with 0%, this promotion is valid until the end of term as long as payments are current.

Once approved, the office is able to view that information immediately.

Once the purchase price is added, applicants will be provided with the options for the down payment. It is due when our office confirms will need the funds in order to move forward with your services.

Whether denied or approved, both last for 30 days. Once that time period ends, applicants are welcome to reapply.