Skin Care Products in Buffalo, NY
Improve the look of your skin with the products available at our office!
SkinCeuticals
PCA Skin
Avène
Dermanail
---
SkinCeuticals
SkinCeuticals A.G.E. Eye Complex
Formulated to improve the appearance of dark circles, wrinkles, puffiness, and crepey skin. This rich, dry-finish balm immediately boosts eye-area radiance while visibly improving firmness and elasticity for a more well-rested appearance.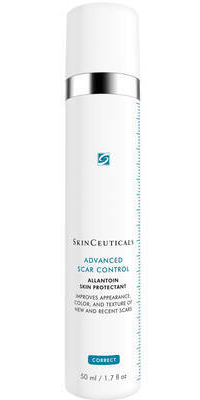 SkinCeuticals Advanced Scar Control
A high-concentration silicone scar gel clinically shown to help improve the appearance of new and recent scars.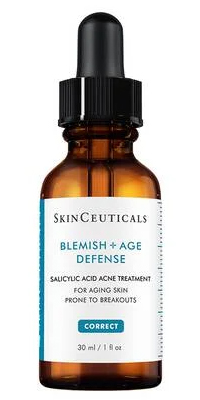 SkinCeuticals Blemish + Age Defense
This oil-free serum is formulated specifically for aging skin prone to breakouts. Also a great option for sensitive skin.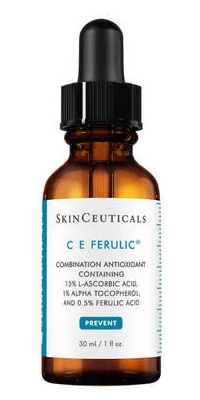 SkinCeuticals C E Ferulic
A vitamin C combination antioxidant serum that is proven to deliver advanced environmental protection against atmospheric skin aging.
SkinCeuticals Clarifying Exfoliating Cleanser
Dual action exfoliating cream that removes dead skin cells to improve texture, brighten skin, and clear acne blemishes.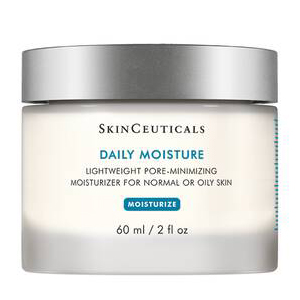 SkinCeuticals Daily Moisture
A face moisturizer that provides normal to oily skin with lasting hydration.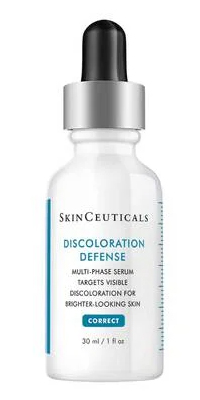 SkinCeuticals Discoloration Defense
Daily dark spot corrector that targets skin discolorations to achieve more radiant-looking skin.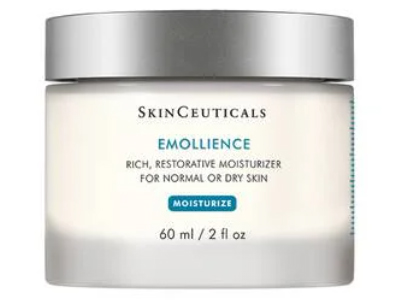 SkinCeuticals Emollience
A face moisturizer that provides normal to oily skin with lasting hydration.

SkinCeuticals Gentle Cleanser
A mild cream cleanser that removes impurities and excess oil.

SkinCeuticals Glycolic 10 Renew Overnight
An overnight skin-refining treatment that exfoliates to promote skin clarity and brightness.

SkinCeuticals Glycolic Renewal Cleanser
A daily exfoliating cleansing gel that targets dullness and rough skin texture for a clear and bright complexion.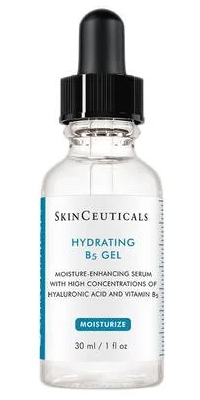 SkinCeuticals Hydrating B5 Gel
A lightweight, oil-free serum that combines vitamin B5 with hyaluronic acid.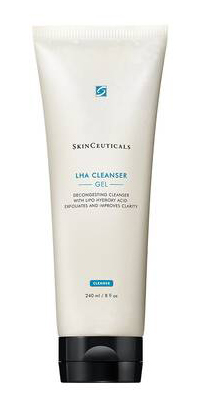 SkinCeuticals LHA Cleanser Gel
An exfoliating cleansing gel that decongests pores, smoothes skin texture and brightens the skin.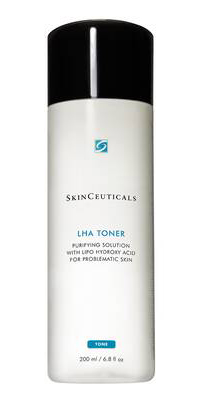 SkinCeuticals LHA Toner
A glycolic acid toner that helps to get rid of clogged pores and remove dead surface skin cells.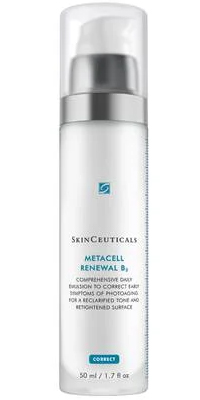 SkinCeuticals Metacell Renewal B3
A comprehensive daily lotion formulated to improve the appearance of the early signs of aging.

SkinCeuticals Micro-Exfoliating Scrub
A smoothing, exfoliating scrub that effectively cleanses pores and exfoliates to hydrate, soften, and improve skin texture.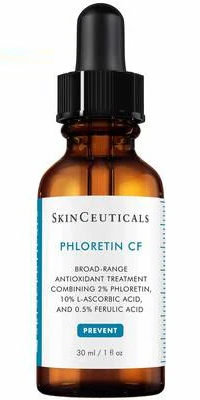 SkinCeuticals Phloretin CF
A daytime antioxidant vitamin C face serum that provides enhanced environmental protection and helps diminish the appearance of fine lines and discoloration.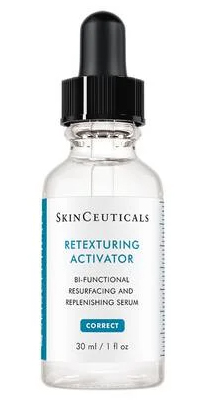 SkinCeuticals Retexturizing Activator
An oil-free serum that exfoliates the skin and replenishes its moisture for a radiant, smooth appearance.

SkinCeuticals Retinol 0.3
A concentrated face cream containing pure retinol that improves the appearance of visible signs of aging and pores while minimizing breakouts.

SkinCeuticals Retinol 0.5
A concentrated night cream with pure retinol that improves the appearance of visible signs of aging and pores while minimizing breakouts.

SkinCeuticals Simply Clean
A pore-refining gel that cleanses, exfoliates, and soothes normal, combination, or oily skin.

SkinCeuticals Soothing Cleanser
A calming cleansing foam with a high-concentration blend of botanical extracts that helps dissolve impurities while soothing compromised skin.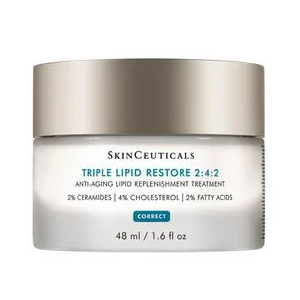 SkinCeuticals Triple Lipid Restore 2:4:2
An anti-aging cream that helps to refill cellular lipids and nourish dry skin.

SkinCeuticals Daily Brightening UV Defense Sunscreen SPF 30
Dual-action daily hydrating sunscreen protects against UV-induced pigmentation, evens skin tone, and instantly brightens skin.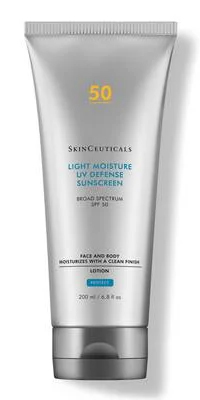 SkinCeuticals Light Moisture UV Defense SPF 50
A broad-spectrum, oil-free sunscreen for the face and body that provides high UV protection while moisturizing skin in a weightless lotion.

SkinCeuticals Physical Fusion UV Defense SPF 50
A tinted sunscreen fluid with 100% mineral filters provides broad spectrum UVA/UVB protection while promoting natural radiance and a more even skin tone.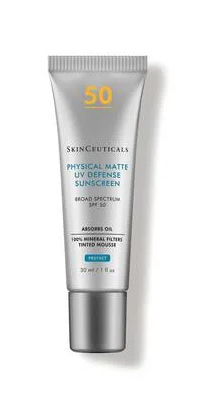 SkinCeuticals Physical Matte UV Defense SPF 50
A broad spectrum 100% physical tinted sunscreen with an oil-absorbing base that leaves a long-lasting matte finish.
---
PCA Skin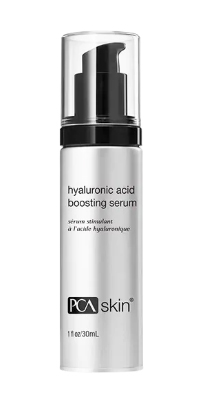 PCA Skin Hyaluronic Acid Boosting Serum
A serum with a blend of soothing ingredients that provides instant hydration to the surface of the skin.
---
Avène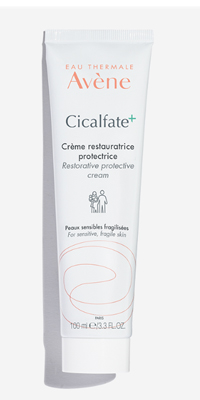 Avène Cicalfate+ Restorative Protective Cream
A rich, nourishing cream that helps to protect the skin from external aggressors while maintaining proper hydration for optimal skin restoration.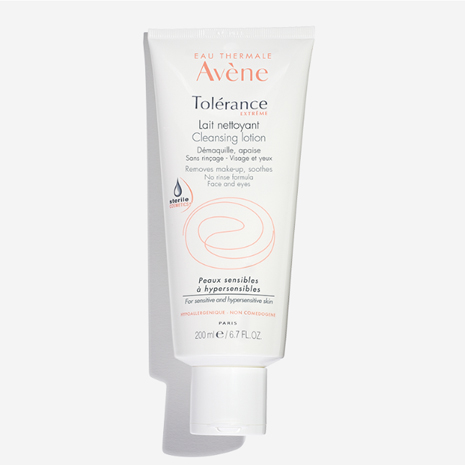 Avène Tolérance Extrême Cleansing Lotion
An ultra-gentle, cleansing lotion that washes and purifies hypersensitive skin.
---
Dermanail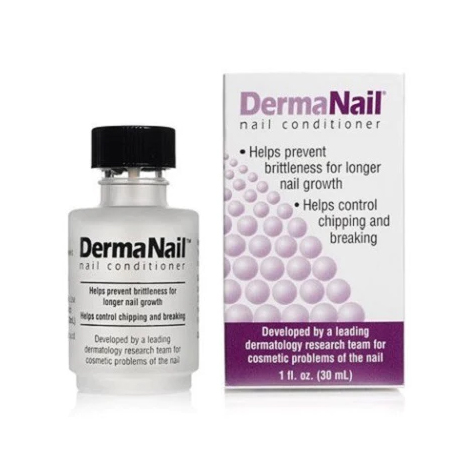 Dermanail
Helps with common nail problems including chipping, cracking, peeling, splitting, breaking, brittle, thin, or weak nails associated with a variety of conditions. The DermaNail patented nail conditioner will help improve the overall cosmetic appearance of the nails.
If you would like to learn more about the above products or to place an order, fill out the form below!