Morpheus8 RF Micro-Needling in Buffalo, NY
Serving Buffalo, NY, and all surrounding areas, including Williamsville, Amherst, Clarence, Orchard Park, and East Aurora. The Morpheus8 at Lisa S. Ball, NP effectively reverses the most common and problematic signs of aging.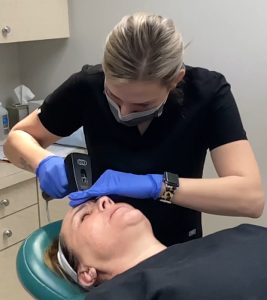 Morpheus8® offered at Lisa S. Ball, NP in Buffalo, NY is a non-invasive skin resurfacing treatment that combines micro-needling with radiofrequency (RF) energy to provide wrinkle reduction, deep skin tightening, and facial and body contouring. This in turn helps to stimulate collagen production and enhance the overall appearance of the skin. The Morpheus8 can be used for, but is not limited to, treating fine lines, wrinkles, acne scars, stretch marks, cellulite, surgical scars, hyperhidrosis, and more:
Improve overall skin tone and texture
Reduce pore size
Decrease the effects of sun damage
Remodel facial tissue as well as eye area, neck and décolletage
For all skin tones, this life-changing treatment is ideal for the lower face (jowls), and areas of the body, like arms or bra fat rolls. Morpheus8 is the first and only treatment to mold the fat deep in the dermal layers to "morph" and remodel skin tissue. After treatment, the skin is left with a more sleek and smooth appearance
---
Morpheus8 FAQs
Morpheus8 is a fractional skin treatment that stimulates collagen production of the underlying layers of the dermis. By targeting the deeper layers of the skin, the building blocks will reorganize themselves in a natural anti-aging process.

Morpheus can be used on any areas that can benefit from sub-dermal renewal. The most commonly treated areas include the lower face and neck. Areas of the face and body that exhibit wrinkles, discoloration, or acne scarring are suitable for treatment.

Depending on your Morpheus8 treatment regime you can expect to have between 1-3 sessions.

Visible results can be seen within a few days, but typically after three weeks, the most noticeable results appear. Improvements continue up to three months after treatment.

Fractionated RF energy is a scientifically proven method to reduce wrinkles and rebuild collagen and fat. It is minimally invasive, using a matrix of micro pins to renew deeper layers of the skin with almost no patient downtime.

The benefit of Morpheus8's color-blind technology is that it can be used on all skin types. The unique properties allow even darker skin tones to be treated.

RF energy heats the deep layers of the skin in a controlled way to revitalize the collagen. The treatment will improve skin complexion and texture for a more radiant and youthful appearance.

Yes, Morpheus8 can be used in the same treatment session or a few days after other treatments.

Since patient downtime is minimal, makeup can be applied 1 to 2 days after the treatment. Patients should expect to see micro lesions a few days after treatment and slight redness for up to one week depending on treatment parameters.

Patients should moisturize the treatment area and avoid direct sun exposure. It is also recommended that patients use a good, broad-spectrum sunscreen every day.