If you are looking to improve the appearance of your skin, then dermaplaning may be for you. As a non-invasive treatment for the face, it is a great option for patients looking for gentle exfoliation. At the Lisa S. Ball, NP Building, our aesthetician Jamie Popp is well versed and experienced with this specific treatment.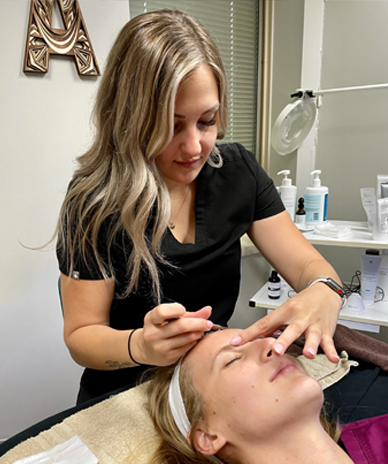 Utilizing a special medical-grade scalpel, everything from dirt, oil, dead skin, and 'peach fuzz' are all removed during the process. This leaves the skin fresher, smoother, and brighter-looking immediately after. But those aren't the only benefits of dermaplaning, here are some others:
No downtime
Suitable for all skin types
Helps makeup apply better
Allows skincare products to penetrate deeper and enhances their absorption
Addresses fine lines and wrinkles
Helps diminish the appearance of acne scars
Stimulates the production of collagen and new skin cells
Leaves the skin with an overall dewy look
Helps to even out skin tone
A great add-on to chemical peels, facials, or HydraFacials
As you can see, dermaplaning has a variety of benefits. It's important to note, however, that the skill and experience of the person doing the treatment has a big influence as well. Contact our office today to learn more about the process and schedule an appointment.