Looking for the best gifts this holiday? We put together a list of some of our favorite products and treatments related to skincare.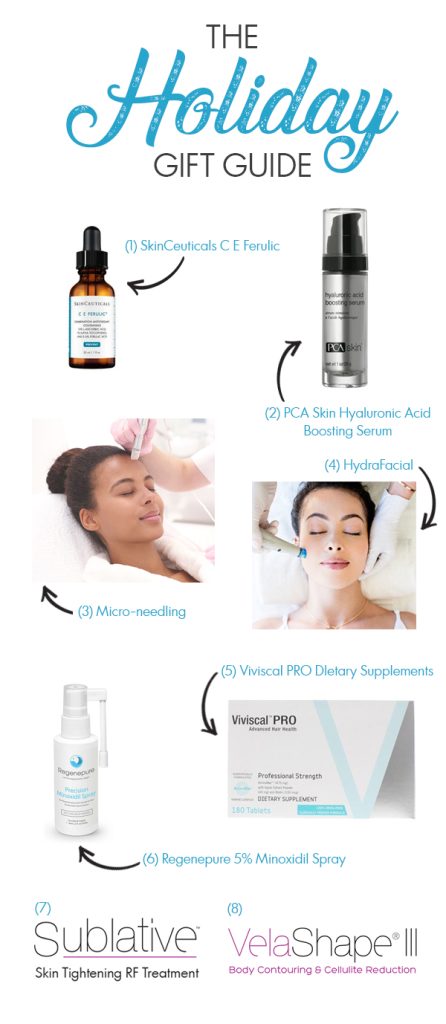 SKINCEUTICALS C E FERULIC // One of the most popular skincare products out there. A perfect option for combatting the signs of aging and protecting against environmental damage.
PCA SKIN HYALURONIC ACID BOOSTING SERUM // Patients love the way this product feels on their skin. Instantly hydrating. An essential for every skincare regimen.
MICRO-NEEDLING // A great treatment for someone dealing with acne scars or fine lines. In just a few treatments, the skin will show noticeable improvement.
HYDRAFACIAL // If you know someone who wants to freshen up their skin and wants to see the results immediately, then this is the perfect gift! This pampering treatment cleanses, extracts, and hydrates the skin in only three steps.
VIVISCAL PRO DIETARY SUPPLEMENTS // A 100% drug-free supplement that helps with hair growth. Thicker, fuller hair can be seen in as little as three months.
REGENEPURE 5% MINOXIDIL SPRAY // One of the best treatments available for hair loss. An easy-to-use spray helps to thicken and regrow hair in only a few months.
SUBLATIVE RF SKIN TIGHTENING // A rejuvenation treatment that treats fine lines, wrinkles, and acne scarring. One of our favorite things about the treatment is the drastic results paired with minimal downtime.
VELASHAPE III BODY CONTOURING // Simply put, this is the best non-invasive treatment for minimizing the appearance of cellulite. A great option for stubborn areas that diet and exercise won't address.
Hopefully, this list will help simplify your search for the perfect gift and make the season a little less stressful!