With Summer in full swing, we rounded up some things we recommend to our patients this time of year.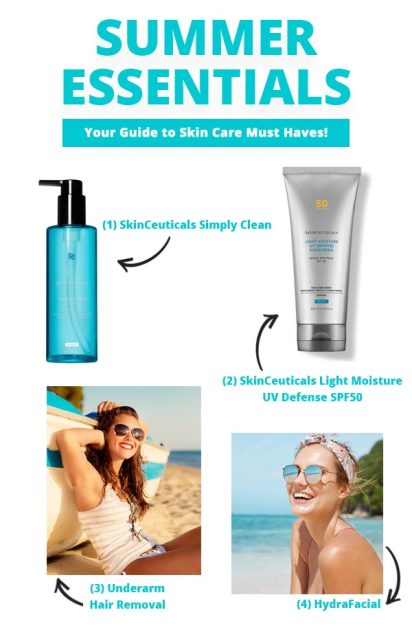 SkinCeuticals Simply Clean. This is a great cleanser for all skin types, especially oily and acne-prone. Not only does it do wonders in removing excess oil and debris from the skin (which this time of year is more common), but it is also a great makeup remover as well.
SkinCeuticals Light Moisture UV Defense SPF 50. An amazing weightless sunscreen that can be used on both the face and body. Some nice things about it are it doesn't clog pores and its quick absorption does a good job of preventing it from getting on clothing. It's also an amazing moisturizer, making it a must for anyone with dry skin.
Underarm Laser Hair Removal. This is a perfect area to treat during the summer because, with laser hair removal, it is essential to avoid the sun. And since the underarms are not typically exposed to it, treatment can still be done. Another positive, it's effective in getting rid of any pesky ingrown hairs.
HydraFacial. The warm, sunny weather can have quite the impact on drying out our skin. That's why the HydraFacial is one of our favorite treatments this time of year. Aside from providing the skin with much-needed hydration, it also helps to unclog the pores from sweat and sunscreen leaving the skin 'glowing' right after treatment.
If your skin is in need of some revitalization through the summer months, contact our office today.