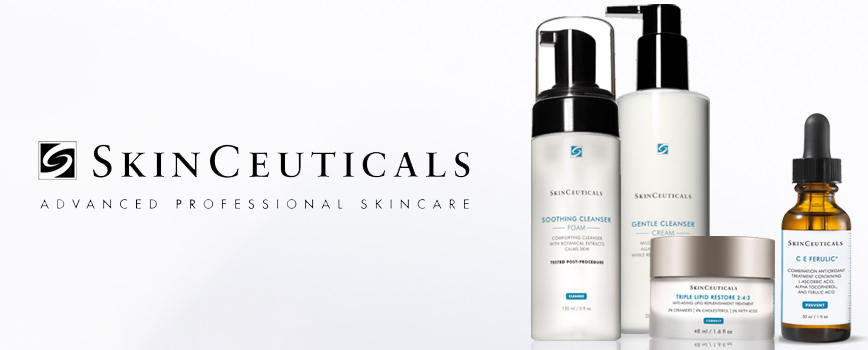 When it comes to skincare, there are many different options available. From drugstore brands to luxury lines, finding the right products can be tough. That's why we recommend one of the most trusted names out there in SkinCeuticals.
Founded in 1997, SkinCeuticals was developed with an extensive amount of clinical research and science. Suitable for all skin types and tones, their products are formulated with the highest quality ingredients that are proven to address a variety of skin concerns.
These products include:
Cleansers + Toner. Essential as a base for any skincare regimen. They help to lift impurities and oils while addressing the key needs of different skin concerns.
Products: Clarifying Exfoliating Cleanser, Gentle Cleanser, Glycolic Renewal Cleanser, LHA Cleanser, Micro-Exfoliating Scrub, Simply Clean, Soothing Cleanser, LHA Toner
Antioxidant. Provides protection from environmental factors that can contribute to premature aging of the skin.
Product: C E Ferulic
Moisturizers. Provides nourishment, replenishes hydration, protects the skin's barrier, and optimizes the health and appearance of the skin.
Products: Daily Moisture, Emollience, Hydrating B5 Gel
Sunscreens. The first line of defense against damaging UVA/UVB rays and helps to preserve the results from other products.
Products: Daily Brightening UV Defense Sunscreen 30, Light Moisture UV Defense SPF 50, Physical Fusion UV Defense SPF 50, Physical Matte UV Defense SPF 50
As you can tell, SkinCeuticals is a comprehensive skincare line that focuses on high-quality results. To learn more about SkinCeuticals, contact the skin care experts at Lisa S. Ball, NP today.